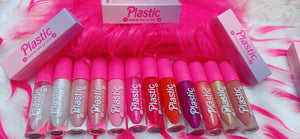 #Dollicious
#SlayAnna
#XXXTRA AF!
Why be BASIC when you can be DOLLICIOUS?
LASHES So Long I Can't see my Hataz;)...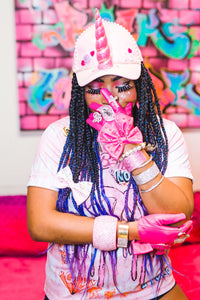 *BAD DOLLZ *Sparkle* in *Limited ADDICTION*...
Glowing Skin is ALWAYS in...Get the Look!!
Dat Pastel Glow;)
This pastel pink dream look is for all you Unicorn Barbie Kawaii Queens..Soft yet effortlessly fierce & fabulous;)
Beautiful "Inked Dollz" Gena Tew & Karma Kitty Mariko are both rockin'
Eyes:
HARAJUKU BARBIE PARTY + 
BARBIE'S BDAY CAKE "Dollust Dust"
(Loose Eyeshadow) ($4.99/ea)+
Lips:
"Pink Paparazzi" Matte Lipstick in the iconic shade  INKED DOLL! ($9.99)
What kinda DOLL are U?
Pink Cheetah!
 "Inked Doll" Bea Morphine rocks in the
NEON LIGHTS BLACKLIGHT Pigment/Glitter Palette ($30) +
Dollicious Diamonds Lippie in 
HARAJUKU HOTTIE ($10.50) + 
"DreamDoll Lashes" in
BARBIE-LICIOUS!
Pretty Bish!
"Inked Doll" Marie Lovingly is a Pink Queen Icon in this dreamy look made for Pretty Rich Bad Girls!
Eyes:
PIERCED BARBIE Pressed Eyeshadow ($7.99) +
URSULA's NITEMARE Pressed Glitter Quad ($22.99) +
CHROME CLUSTER GlamDoll Glitter ($5.99) +
Lips:
KANDI KID Matte Dollicious Liquid Lipstick ($10.50)
Living Dead DollZ..
Platinum Queen..
Independent, Empowered and Iconic..this look is for THAT BISH who RULES any room she steps in & DEMANDS attention!
Rocked out by "Inked Doll's" Assistant &
NXT LVL Baddie Karma Kitty Mariko in 
Eyes:
GUNMETAL + IMMORTAL+ DECAYED Pressed Eyeshadows ($8.50/ea) +
Lips:
"Liquid Metal" Metallic Liquid Lipstick in KNUCKLEDUSTER & DECAYED METAL ($10.50/ea)
Ice, Ice, Baby...
 Brr it's cold; must be sum basics near..!
Rock this iconic Bad Doll look as you roll up and take ova da party! Glamm'ed out by
"Inked Doll" Jade Katt wearing
Eyes:
LiTT GlamDoll Glitter ($5.99) +
VENOM Black Metallic "DreamDoll Lashes" ($5.99)+
Lips:
"Dollicious Matte" Liquid Lipstick in
LIQUID LATEX ($10.50) 
Storm Goddess..
Quiet the storm.. A Neon Sex Goddess is here;  Ethereal "Inked Doll"
Sun Gypsy rockin' 
Eyes:
"Rave Lites" UV Reactive Powder in
LOUD LEMON ($5.50) +
DECAYED Pressed Eyeshadow ($8.50) +
ELECTRA SUNSHINE "GlamDoll Glitter" ($5.99) +
DOUBLE D-LUXE "DreamDoll Lashes" ($6.99) +
Nose & Bridge:
UNICORN GLOW Triple Stack Highlighter ($12.99) +
Face:
*FAIRYTALE GODDESS* Highlighter! ($11.50) +
Lips:
DEAD CUTE Semi-Matte Lipstick On SALE!! ($5.00)